If you're planning to hit the slopes this year as a family, leaving things to chance is inadvisable. That being said, you might want to think carefully about which of the ski resorts on your radar top the table in terms of family-friendliness.
On the plus side, it really isn't as if you're short on options. In fact, jet off to any of the following top-picks and you're largely guaranteed the kind of kid-friendly jaunt you'll never forget … for all the right reasons.
La Plagne
First up, the primary appeal when it comes to La Plagne is the fact that you are technically looking at 11 resorts all rolled into one. Kid-friendly entertainment comes thick and fast, including an extraordinary array of gentle blue and green runs, a frozen waterfall for getting to grips with a bit of ice climbing and the only bobsleigh run in France that's open to the public. Suffice to say, a winner with kids of all ages.
Alpe d'Huez
Great for adults and kids alike, Alpe d'Huez finds itself routinely overlooked by the usual hordes. Which can be nothing but a positive thing for those on the lookout for an outstanding resort that's also comparatively quiet and relaxing. Accommodation standards couldn't be higher, kid-friendly entertainment is in plentiful supply and there are more gentle green runs around than you'll know what to do with. Also a winner for its ski resort transfer times – Grenoble Airport being around 100km away.
Avoriaz
If you're looking for the most visually stunning resort in the French Alps, you won't find it here! While Avoriaz doesn't score a great many points for its beauty, it is nonetheless one of the most functional, enjoyable and affordable resorts of its kind. An absolute Mecca for families, Avoriaz is home to not only a superb British ski school, but also the famed 'Village des Enfants' with its resident staff of colourful Disney characters!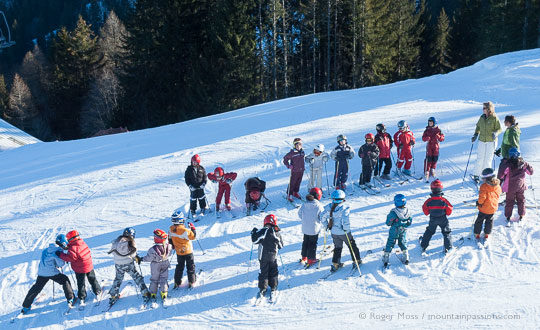 Les Karellis
Anyone travelling with particularly young children should definitely consider Les Karellis – a safe and compact resort that is also 100% car-free. Along with unrivalled childcare facilities, all the equipment you'll need – including high chairs, baby baths, cots and so on – are provided free of charge. Excellent ski schools catering to youngsters from four-years-old, plenty of kid-friendly events throughout the year and comprehensively gentle slopes top off an unbeatable family ski destination.
Serre Chevalier
This delightful family ski resort of Serre Chevalier brings together the three villages Chantemerle, Villeneuve la Salle and Monêtier les Bains. The ski area itself is absolutely enormous, the snow conditions are reliable and the resort basks in approximately 300 days of sunshine per year. Green slopes are served up in abundance, the child-minding facilities are first class and the surrounding countryside is no less than breathtaking.
Valberg
Last but not least, Valberg is situated just 90 minutes from the Cote d'Azur and ticks all the right boxes for families with kids of all ages. There's the child minding 'halte-garderie' for kids aged 14 months to six years, a special ski area just for kids where those as young as three years old are welcome to get started and more than 300 snow cannons guaranteeing spectacular conditions throughout the season. All in all, a typically overlooked resort you might not want to let slip under your own radar!