Châtel lies in the vast Franco-Swiss Portes du Soleil ski & mountain-biking area. Proximity to Geneva international airport plus TGV rail stations, has transformed this once-remote border village. One of the best ski resorts near Geneva, summer in Châtel is a must-do destination for challenging downhill mountain-biking coupled with an authentic Alpine experience.
Take a summer holiday in Châtel, Portes du Soleil
We're no strangers to the Portes du Soleil, having skied from Châtel, Les Gets, Morzine and Avoriaz, but we're intrigued to see how everything looks and feels in summer. We get a foretaste when we pass through Abondance and La Chapelle d'Abondance, both of which look relaxed without the disturbance of ski season traffic.
It's a similar story in Châtel, although all three villages are year-round working communities. This time rather than skis we've brought bikes, so after checking into our apartment accommodation at Les Chalets d'Angèle, a few minutes from the village centre, we check over our bikes before stowing them in the secure bike room.
---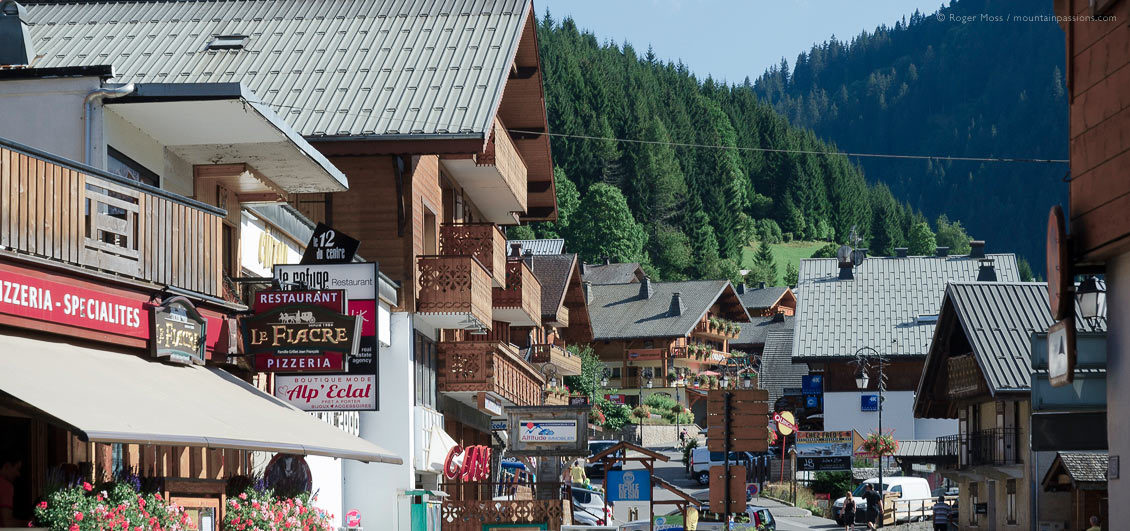 The full Châtel summer resort review offers lots more insight and inspiration. Find ideas for things to do, places to visit, plus our tips to make the most of your summer holiday in Châtel.
---
La Belle Dimanche Alpine Festival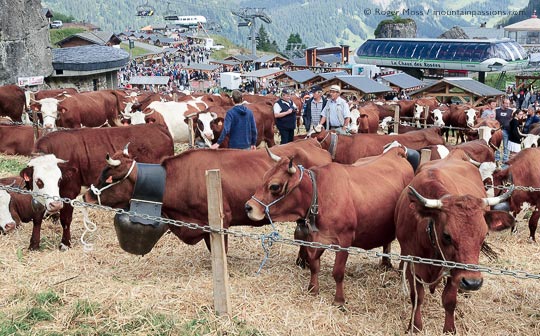 The next morning we head out early and drive over to the car parking area serving the Pré la Joux and Pierre Longue chair-lifts. Spaces are already fast being taken by those planning to head up the mountain for the 'Belle Dimanche'. Celebrated for over 40 years, this is a colourful celebration of traditional mountain life held in August.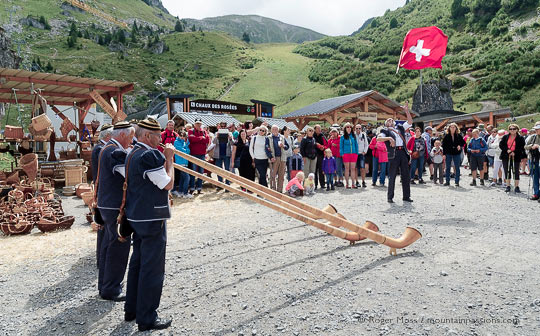 Originally centred on the judging of the livestock breeds which play a key role in the economy of mountain communities, the event now encompasses a food and craft producers' market, music and folklore plus demonstrations of traditional crafts, including cheesemaking, wood turning and artisan iron working.
Local traditions and livestock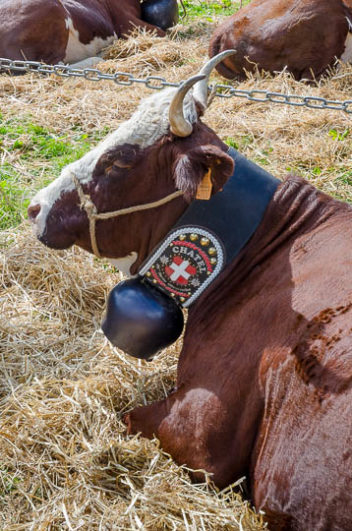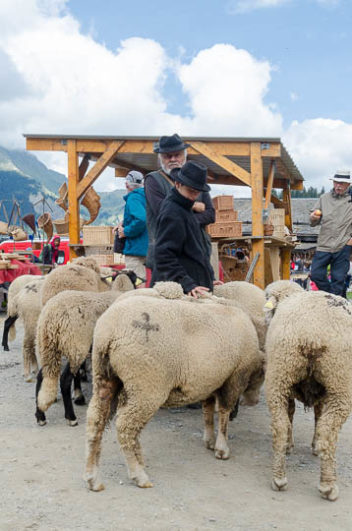 At the sheltered plateau of Plaine Dranse we join the crowds moving among the stallholders' displays and sampling an assortment of local produce. After a brief pause to hear some authentic Alpine horns we continue our tour, swerving momentarily around some slightly confused-looking sheep being herded through the crowds by a shepherd and his dogs.
---
Advertisement
---
We check out the Fantasticable zip-wire
After a quick look at the nearby Bike Park trail map showing green-, blue- and red-graded routes (along with some gnarly-looking black detours) down to Pré la Joux, we flee the crowds by riding the chairlift up to the Crête des Rochassons (1930m), the transition from Châtel's terrain to that of Avoriaz. The onward views are dazzling.
The prominent ridge is also the launch-point for the Fantasticable, which fires zip-wire fans on two-stage flights of over 2.5km at heights of up to 240m while reaching speeds of around 80-100km/h. With lots of weekend riders it's impressive, so we watch them for a while before heading off with the intention of walking back down to Plaine Dranse.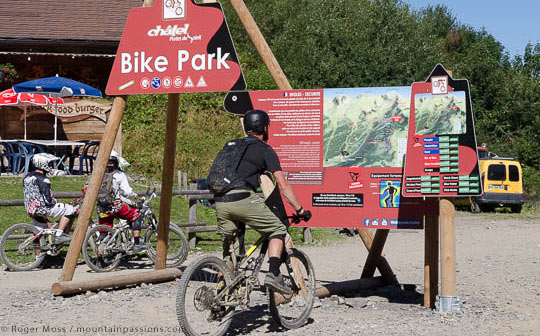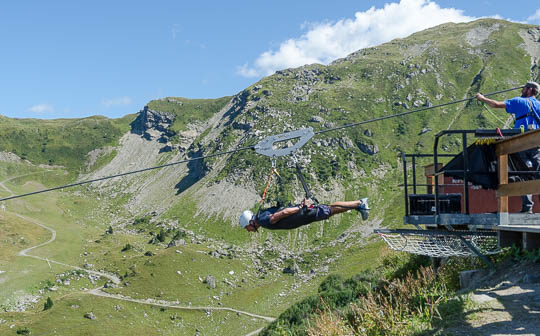 ---
Downhill mountain biking: a steep learning curve
As it turns out, the most obvious route, a wide path shared by walkers and mountain-bikers, is steeper than it had looked, and strewn here and there with unstable scree. We're about to get some timely insight. After a few minutes of being passed by experienced riders blasting their way down fearlessly it dawns on us that if we'd imagined tackling even tamer downhill trails here on our hybrid bikes then we were badly mistaken. That particular thought is reinforced during the chairlift ride back to the car when we glimpse groups of bikers tackling forest trails far below. We'll put that one down to experience.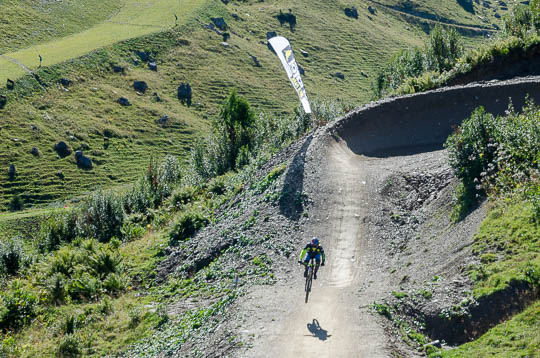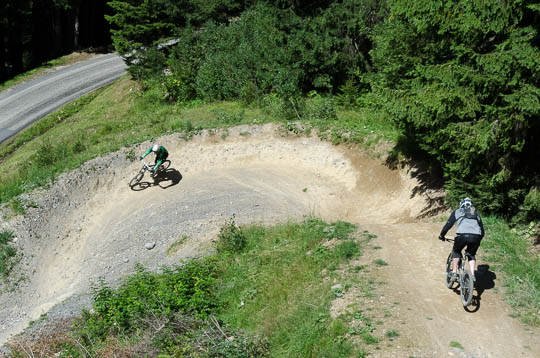 ---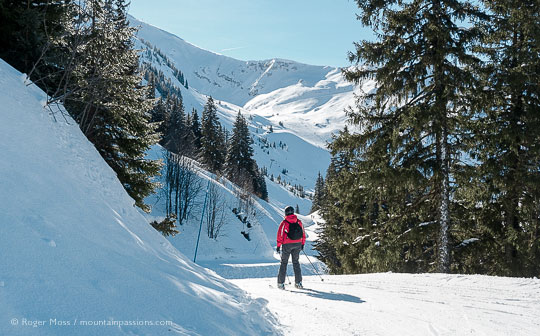 Love to ski?
Read our Châtel ski resort review. Part of the fabulous Portes du Soleil ski area, we give you our unique insight on what it's like to stay and ski in Châtel.
---
Walks and rides from Châtel
We ride a riverside trail over to Abondance
The Sentier des bords de Dranse is a 20km riverside trail down the valley from Châtel to Abondance. Equally accessible to walkers, it could be just the kind of terrain our hybrid bikes were built for. That lifts our spirits, so the very next day we ride down to join it and find out. Once on the trail we pass a few walkers, a lone runner and a couple of other bikers, but mostly it's just us and the broad, shallow river.
When we're level with La Chapelle d'Abondance we turn off for coffee and croissants at Le Fournil, whose range of fresh-baked breads and pâtisserie is mind-blowing. Below the village the broad valley narrows noticeably, with vibrant green pastures bounded by larch and pine forest. The track, though, remains relatively flat, until up ahead we glimpse the familiar Savoyard 'onion' spire of the historic Abbaye d'Abondance.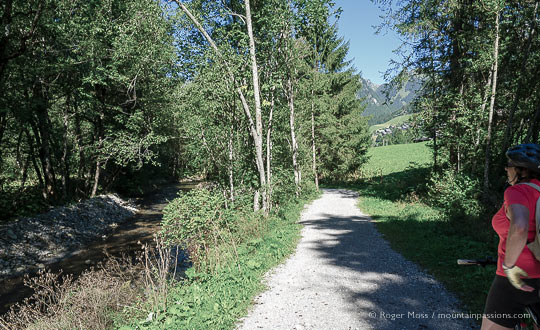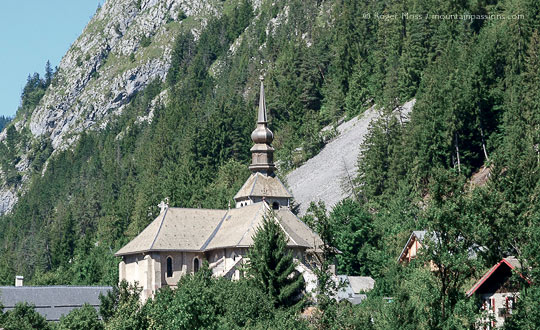 The bike-carrying shuttle bus
We emerge in the heart of the village of Abondance, looking picture-perfect with the extravagant summer floral displays that skiers never get the chance to see. It's clear, though, that things are winding down for lunch and restaurant terraces are filling up. We'd planned a picnic so we pick up some cold drinks, a fresh baguette and a wedge of tasty local AOC Abondance cheese.
After an unhurried lunch with a view, we await the first of the afternoon's shuttle buses. The driver hangs our bikes on purpose-built racks and we enjoy an effortless ride back up the valley to the market place in Châtel. It's just a few minutes' down to the Chalets d'Angèle, where we store the bikes, head up to our luxury apartment and enjoy a cool beer on the balcony.
---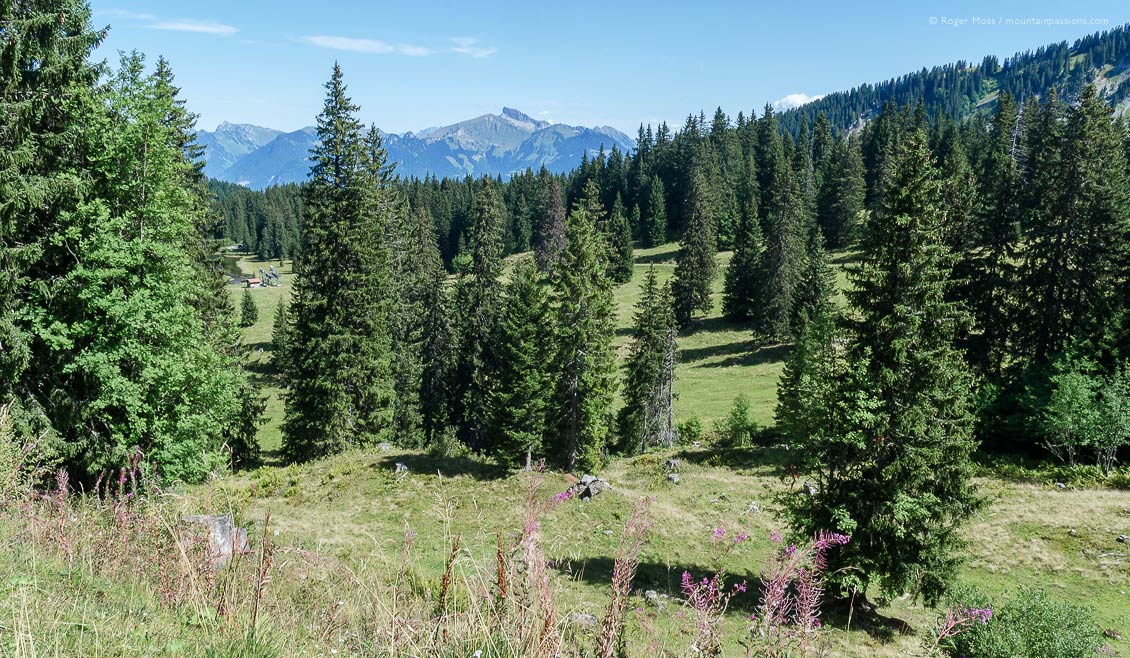 ---
Advertisement
---
Walking the cross-border trails above Châtel
Next morning the bikes remain in their store, the idea being to find out how summer walkers benefit from the lifts which remain open. The Portes du Soleil are huge, and we know from experience that getting around takes time, even for winter skiers, so we're surprised by just how much distance we manage to cover on foot. Unlike mountain-bikers, we can begin in the heart of village by riding the Super-Châtel gondola up to the Franco-Swiss border. At the top we follow a trail signed to the peaceful Lac de Conche, beyond which the trail winds its way through silent forestry plantations, with occasional glimpses of surrounding peaks.
The sense of remoteness from everything except nature intensifies when we make out the town of Montreux on the shores of Lac Léman through the heat-haze. Finding the Chalet Neuf mountain restaurant mysteriously closed, we make the final climb to the Portes de Culet. The views from the 1788m pass are truly magnificent but we look in vain for a potential picnic spot offering shade from the heat of the midday sun, so end up retracing our steps back to the cool of the forest. Most of the return walk to Super-Châtel amounts to little more than a gentle downhill stroll, and the blissful near-silence remains with us almost until we reach the gondola lift.
---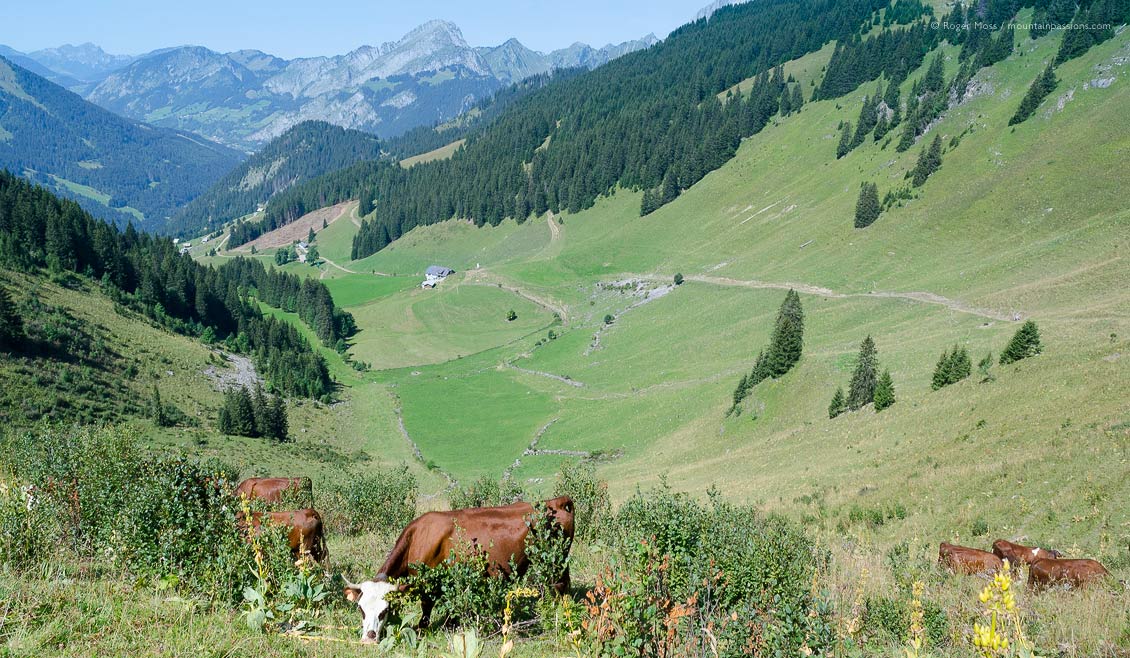 The Barbossine Valley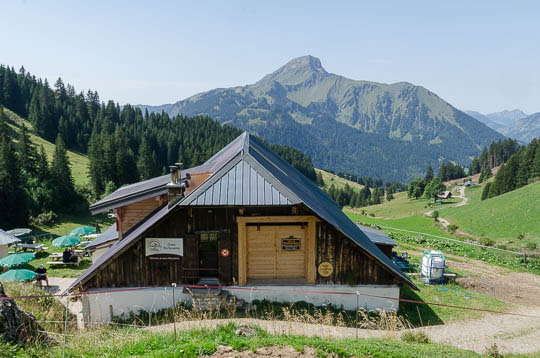 If you fancy tackling something on foot with an interesting lunch stop, head for the Barbossine Valley. Taking the cable car then chairlift to Morclan, follow the signposted footpath that will lead you to a descent through Alpine pastures with fabulous views. There's a great lunch stop at a traditional dairy farm, after which, there's an easy walk back to Châtel through the forest.
---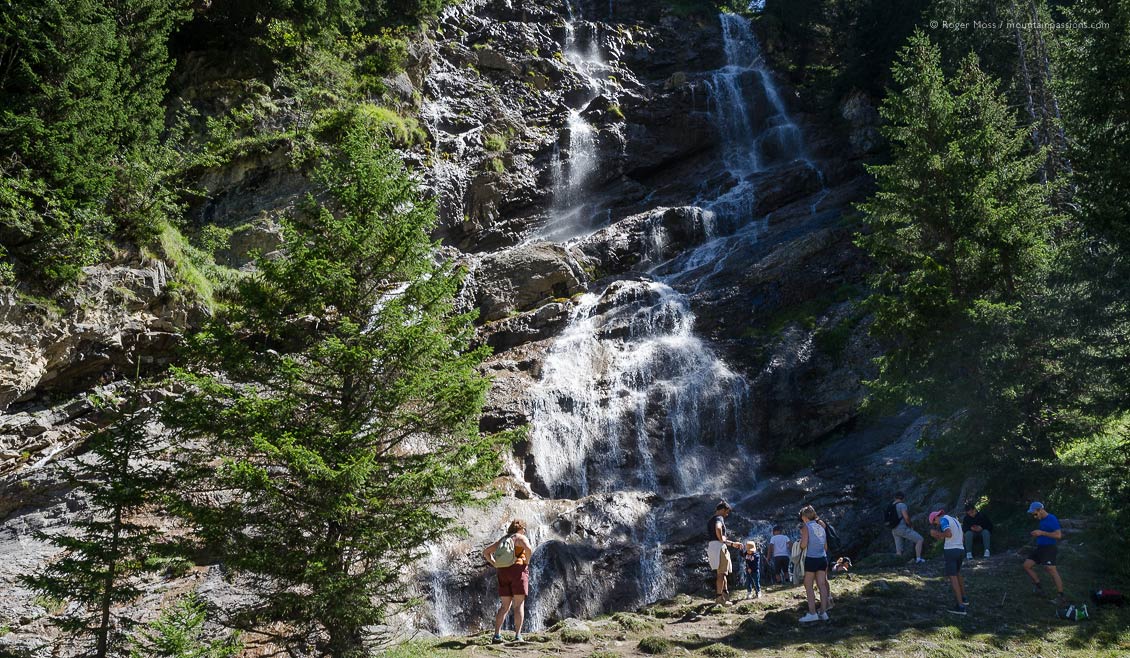 Cascade des Brochaux
The next day we go considerably further, following a well-conceived succession of chair-lifts, starting from Pré la Joux. At Plaine Dranse we take the Rochassons six-seater up to the Crête des Rochassons (1923m), for a ride down to Les Lindarets on the bi-directional Chaux Fleurie, another six-seater. Finally, after riding the Linderets four-seater up to the Crête d'Avoriaz (1874m), where the ski village looms a short distance ahead of us.
From Avoriaz, we turn left to follow a footpath which takes us on a winding route down to the Cascade des Brochaux, a spectacular reward for almost an hour's ramble.
Beyond the falls we follow another wayward path, this time following the stream from the falls through woodland and down the valley to Les Brochaux, where we break for lunch beneath a parasol on the terrace of l'Abricotine mountain restaurant.
---
Pointe des Moissettes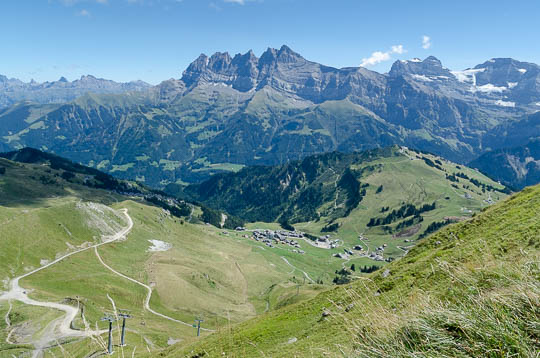 Having come this far, we can't resist taking one of our favourite chairlifts all the way to the Pointe des Moissettes (2277m). Summer or winter, it's an epic haul and the panoramic views from the Pointe des Moissettes are pretty spectacular.
How do you follow that? The following day we find out, by driving across the Swiss border above Châtel, heading round to Champéry, and taking the vertiginous cable-car up to the 1936m Croix-de-Culet and looking back across the valley towards the Pointe des Moissettes.
---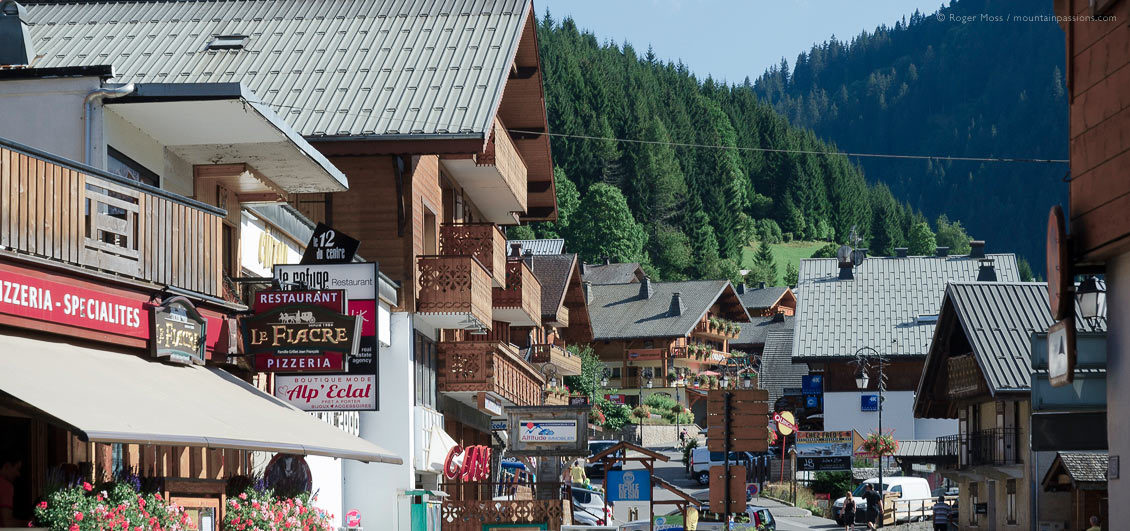 The full Châtel summer resort review offers lots more insight and inspiration. Find ideas for things to do, places to visit, plus our tips to make the most of your summer holiday in Châtel.
---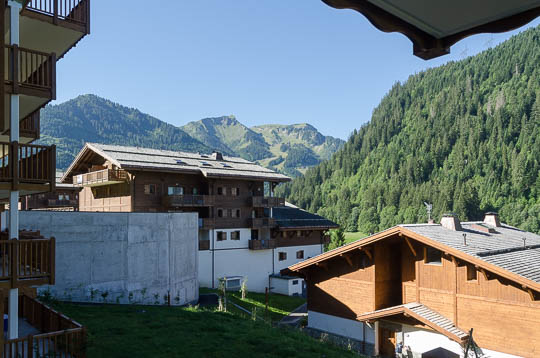 Where to stay
We stayed in a 2-bed apartment sleeping 4-6 people costing from £789 per week (summer 2020). Prices per accommodation (not per person) including standard midweek ferry crossing with P&O from Dover to Calais, self catering.
More information, special offers and booking:
Peak Retreats
023 9283 9310(UK)
reservations@peakretreats.co.uk
---